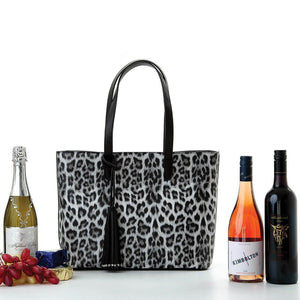 Bah..bah…bah Belinda, you are Bah…bah….bah…beautiful! 
That is exactly what I said when I first set eyes on our Belinda. I don't usually have a stutter but she just took my breath away and made me quite speechless. Yes, I know what you're all thinking but yes, there are times when I'm speechless. With her stunning Leopard pattern in sexy grey hues the Belinda was more beautiful in real life than on paper when I designed her.
Available in only 2 styles, the Belinda and Michelle will be hard to choose between, so just buy both. 
The interior of both these little beauties are as unusual as they are. Michelle with a gold coloured interior and Belinda with a stunning silver grey. These interiors just stand out to finish 2 very special sisters. With 2 open pockets and a zipped side pocket there are plenty of places to pack your bits and pieces.
With a removable cooler pocket so big it can hold not 2 but 3 bottles of wine this handbag, you can imagine what else you can use this Cool Clutch to carry. Whether you want to carry your lunch, medication, umbrella or secret alcohol stash you and your Cool Shoulder Handbag will soon because inseparable.
Other possible uses;
Keep your lunch, work documentation and laptop separate
No more spoilt handbags by kids sticky lollies
Carry 3 bottles of wine and keep them cool
Great size for a stylish nappy bag
Keep your make-up from melting
Pop in a wet foldable umbrella for storage during your visit and easy access when you leave
Carry medication discreetly and stylishly