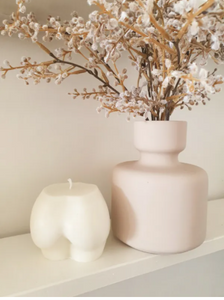 OH HEY Belle! This cheeky candle is inspired by the beauty of the female body. Everyone likes a great bum right!? She'll be sure to be a talking point in any setting! Made from a natural soy wax blend, this candle is hand-poured in Melbourne, Australia. 
7 x 6 x 8 cm
250 gms
Burn Time - approx 5 hours 
Unscented Natural Soy Wax blend
All our candles are handmade so they may have slight imperfections and colour variations. 
WARNING: Never leave a burning candle unattended.
Do not leave burning candles near any flammable materials.
Keep out of reach of children and pets.
Refer to our candle care page for additional information.